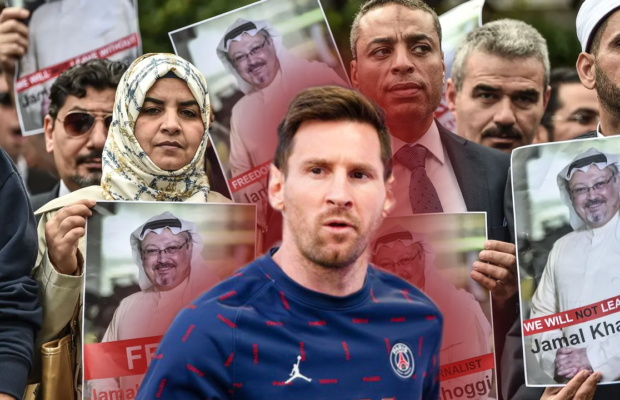 Messi, tourism ambassador of Saudi Arabia, amid accusations of sportswashing
Less than a year after the takeover of Newcastle United by the Saudi Arabian Public Investment in a £300m deal, another sportwashing process is in the making as Lionel Messi is now the face of oppressive Saudi monarchy.
The Argentinian was announced as the latest tourism ambassador for Saudi Arabia during a trip to Jeddah, a port city in Saudi Arabia that dozens of its neighbourhoods are being forcibly demolished by the oppressive regime, displacing tenths of thousands.
The winner of seven Ballon d'Or awards and six European Golden Shoes, Messi, is now accused of "sportswashing" the brutal, blood-soaked human rights record of the Saudi regime by accepting to be its tourism ambassador.
By accepting a role as Saudi Arabia's tourism ambassador, Messi has effectively aligned himself with a regime linked to countless human rights abuses, including the infamous assassination of dissident journalist Jamal Khashoggi, its devastating war in Yemen that has caused a humanitarian catastrophe, and its crackdown on intellectuals, reformers, and women's rights activists.
Messi made $122 million in 2021 alone, making him one of the highest paid athletes in the world. Many argue that he could have politely declined the Saudi offer and still lived out a very comfortable retirement. Cristiano Ronaldo has previously turned down a similar offer of $6 million to work with and promote the Saudi government.
in 2021, family members of prisoners of conscience in Saudi Arabia wrote to Lionel Messi to urge the star to refuse to become the face of Saudi tourism after reports about such offer from the Kingdom's tourist board.
"If you say 'yes' to Visit Saudi you are in effect saying yes to all the human rights abuses that take place today in modern Saudi Arabia," reads the letter, which was first published in February 2021. "But if you say 'no' you will send an equally powerful message – that human rights matter, that decency matters, that those who torture and murder do not do so with impunity. The world must stand up to those who trample on others."
Furthermore, Amnesty International at the time released a statement urging sports stars involved in Saudi Arabia to use their platform to call out the regime, saying "Saudi Arabia's General Entertainment Authority may well have plans to attempt to rebrand the Kingdom's reputation, but we should not forget the cruelty that continues in the country."
"Saudi Arabia is currently jailing and torturing dissidents and human rights defenders, is heavily involved in the indiscriminate bombing of hospitals and homes in Yemen, and the spectre of Jamal Khashoggi's gruesome murder hangs over the entire Saudi government," Amnesty International added.
But even last year, Messi was involved in promotional work with Saudi Arabia with his face seen on billboards in the country. And he is far from the only sporting idol with ties to the nation. In 2019, David Beckham was criticised for agreeing to play in an exhibition match in the kingdom alongside his former Real Madrid team-mate Zinedine Zidane.
The recent attempts of the Saudi regime's to polish its reputation and launder its human rights record included signing a 10-year, $650m deal for a Formula One motor racing event, investing millions in a Saudi International golf event, partenering with WWE for annual shows, and hosting the world heavyweight championship rematch between Anthony Joshua and Andy Ruiz.
Last year, a group led by Saudi's sovereign wealth fund – an entity headed by Crown Prince Mohammed Bin Salman – purchased Newcastle United, providing Saudi with an influential position in English football and an international platform to launder its reputation.
"Everyone – from fans to champions – needs to resist being part of Saudi Arabia's propaganda drive, be aware of what is going on there and speak out about the government's abuses.. Sport must not be allowed to be used like this," said Felix Jakens, Amnesty International UK's head of campaigns.