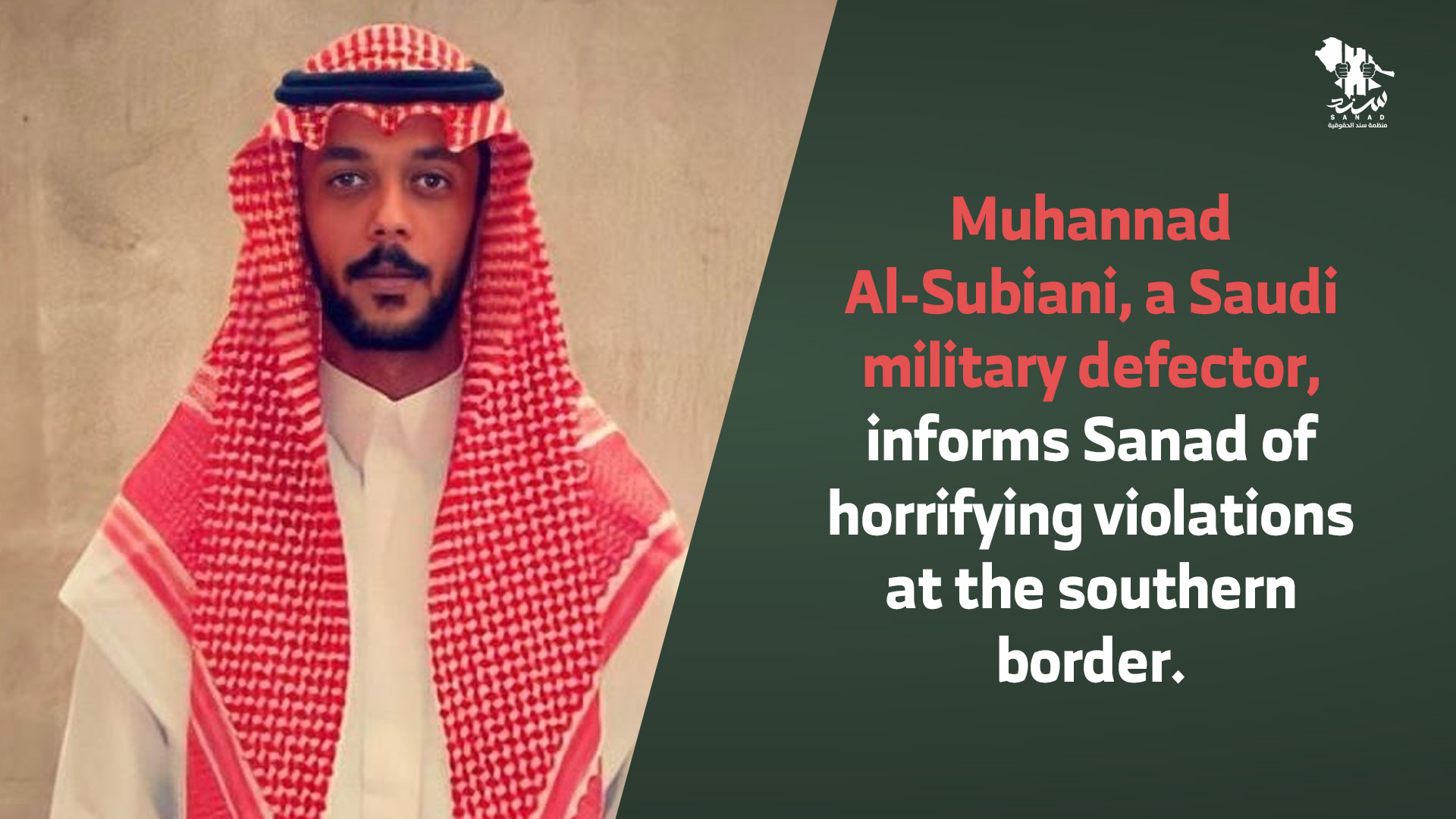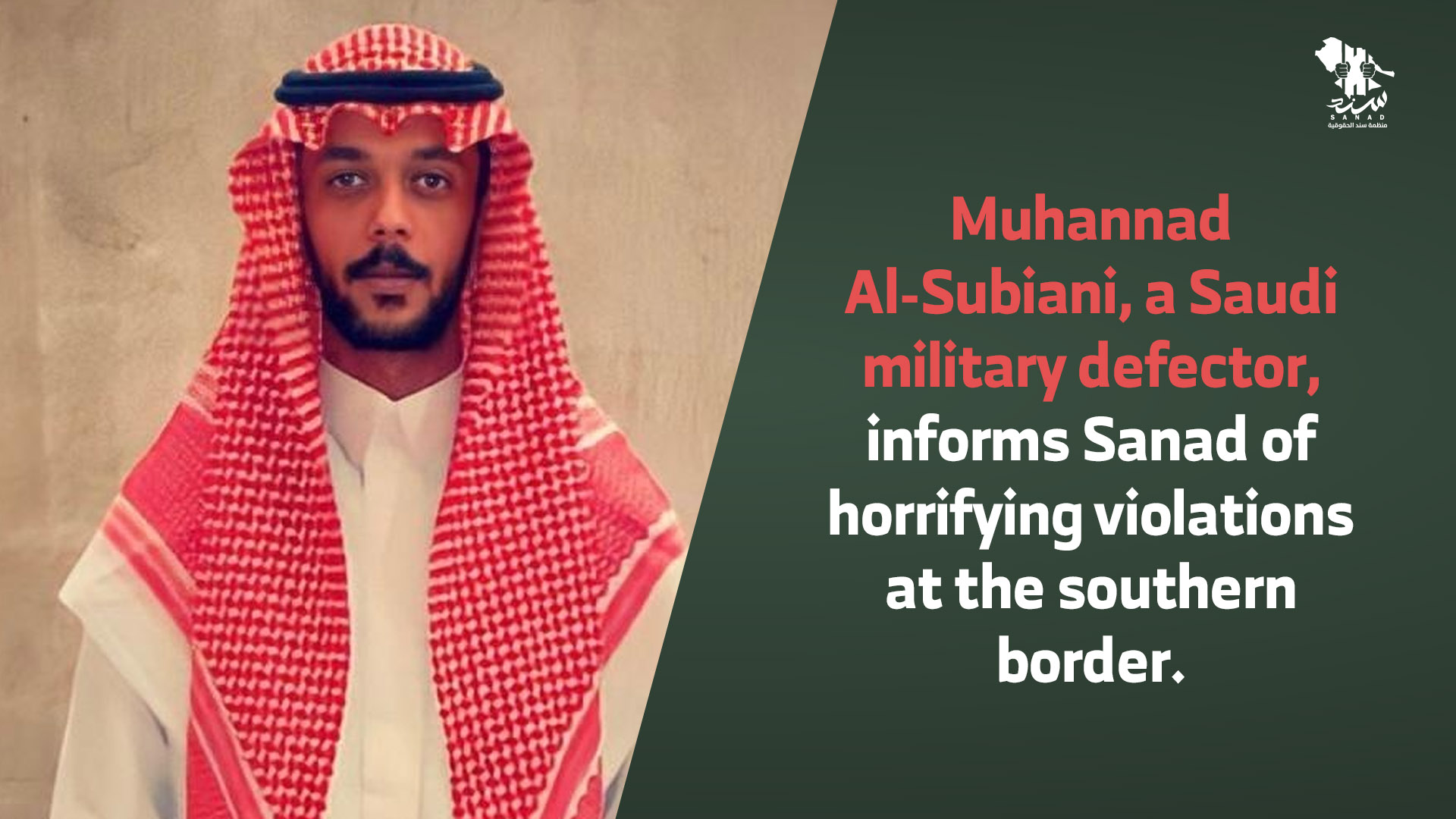 Muhannad Al-Subiani, a Saudi military defector, informs Sanad of horrifying violations at the southern border.
Muhannad Al-Subiani, a Saudi military defector, informs Sanad of horrifying violations at the southern border.
A former employee of the Saudi Ministry of National Guard has confirmed to Sanad Human Rights Organisation that he had been stationed at the southern border since the beginning of the conflict. Muhannad Al-Sibani, a former soldier who defected from the Saudi regime, witnessed numerous horrific violations of detainees' and migrants' human rights. His testimony revealed numerous crimes and immoral practises committed by the regime, including indiscriminate bombardment, intentional killing, and prisoners' and illegal immigrants' mistreatment.
Al-Sibani revealed to Sanad that, while tied to the Intelligence Department at the southern border, he witnessed a number of grave violations, including higher orders to bomb random locations, which resulted in the death of many innocent people, as well as a number of soldiers being killed by their own side. This was in addition to permitting the smuggling of weapons and drugs.
Al-Sibani also stated that he and one of his fellow officers, a lieutenant, gathered a variety of information and presented it to the higher authorities, including the Brigade Commander, the Minister of the National Guard, and the Coalition Commander, but received no response. This prompted them to write a letter to Crown Prince Mohammed bin Salman, but their transfer to Riyadh came as a surprise. They were interrogated, had their personal devices confiscated, and were compelled to remain silent about everything that occurred. One week later, they were released after being assaulted and threatened with malicious charges if they spoke again.
Al-Subyani stated that they were prohibited from travelling and suspended from work for six months before being allowed to return to work in different regions. He was subjected to an assassination attempt involving a gunshot while leaving his home one year after the incident. Despite submitting a case to the authorities, he was astonished that it was closed due to an unidentified factor.
Al-Subyani disclosed that the Saudi authorities arrested his fellow companion, the lieutenant, for publishing tweets from a fake account in which he criticised the current Saudi government and that he was tracked until he was arrested while the account was on his phone. Al-Subyani was subsequently released after receiving an interrogation summons. As a result, and despite the lack of evidence against him, his colleague has been subjected to enforced disappearance from that point forward.
Al-Subyani reported that Saudi security forces stormed his family's residence and searched for him after he announced his defection. In addition, they interrogated his family and threatened severe punishments if they contacted him.
Notable is the fact that Muhannad Al-Sibani was a former soldier in the Saudi National Guard. He left Saudi Arabia in April 2023. In May of 2023, he proclaimed his defection and opposition to the Saudi regime. Despite the travel ban issued against him, he was able to flee Saudi Arabia and settle in the United Kingdom.