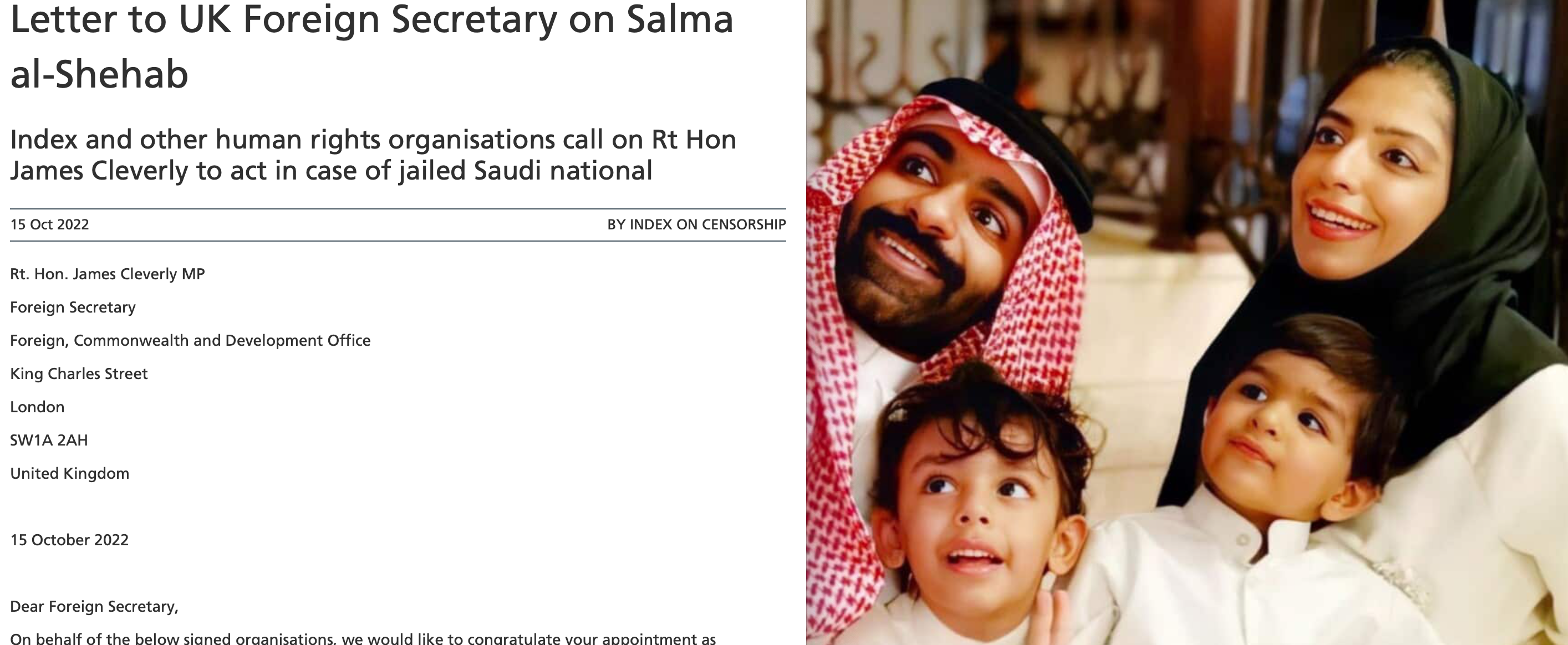 Sanad and other human rights orgs send a letter to UK Foreign Secretary on Salma Al-Shehab
Sanad and other human rights organisations have sent a joint letter to Rt Hon James Cleverly, calling him to act in the case of jailed Saudi national, Salma Al-Shehab. The joint letter which was published today, 15 October 2022, aimed to draw the attention of the UK Foreign Secretary to the treatment of political prisoners in Saudi Arabia who have been imprisoned for expressing themselves.
Salma al-Shehab, who was a student at the University of Leeds, studying for a PhD in oral and human health, was arrested on 15 January 2021 after going back to Saudi Arabia to spend the holiday with her husband and two children. It is understood she was planning to return to the UK with her family.
Al-Shehab's was accused of sharing content in support of prisoners of conscience and women human right defenders, such as Loujain Alhathloul. For this, upon Salma Al-Shehab's return to Saudi Arabia, she was arrested and held arbitrarily for nearly a year, before being sentenced to 34 years in prison with a subsequent 34-year travel ban.
The letter, which was coordinated by Index on Censorship, a nonprofit that campaigns for and defends free expression worldwide, highlighted that the sentencing of Al-Shehab is one of the latest in a longstanding trend that has seen the Saudi judiciary and the state at-large being co-opted to target civil society and fundamental human rights.
Acting definitively so early in your tenure would be a powerful symbol both to our allies and others that the UK can be a trusted protector of human rights and the rule of law.
The letter continued to list some recent extreme sentences issued by the The Specialised Criminal Court (SCC), adding "The same day that al-Shehab was sentenced, the SCC sentenced another woman, Nourah bint Saeed Al-Qahtani, to 45 years in prison after using social media to peacefully express her views. Ten Egyptian Nubians were sentenced to up to 18 years in prison after they were arrested and detained – for two months they were held incommunicado and without access to their lawyers or family – after organising a symposium commemorating the 1973 Arab-Israeli war."
"Dr Lina al-Sharif was also arbitrarily detained", as the letter described "for over a year following her social media activism after a group of agents of the Presidency of State Security raided her family home and arrested her without a warrant. A worrying dimension is the use of violence and torture to coerce confessions, as well as ongoing persecution or surveillance following a prisoner's release, further eroding the legitimacy of the SCC and its verdicts.
The letter urged the UK Foreign Secretary to act, knowing that "UK's close relationship with Saudi Arabia should not bind your hands to upholding human rights commitments and calling out violations when they are brought to your attention, particularly, in the case of al-Shehab, where they relate to the application of Saudi legislation for actions that took place within the territory of the United Kingdom. In fact, this relationship places you in a strong position to call for the release of all prisoners unlawfully held in Saudi Arabia without delay."
The signatories demanded actions from UK Foreign Secretary on this "important issue and further support the calls to action outlined by over 400 academics, staff and research students from UK universities and colleges in a letter authored to you and the Prime Minister."