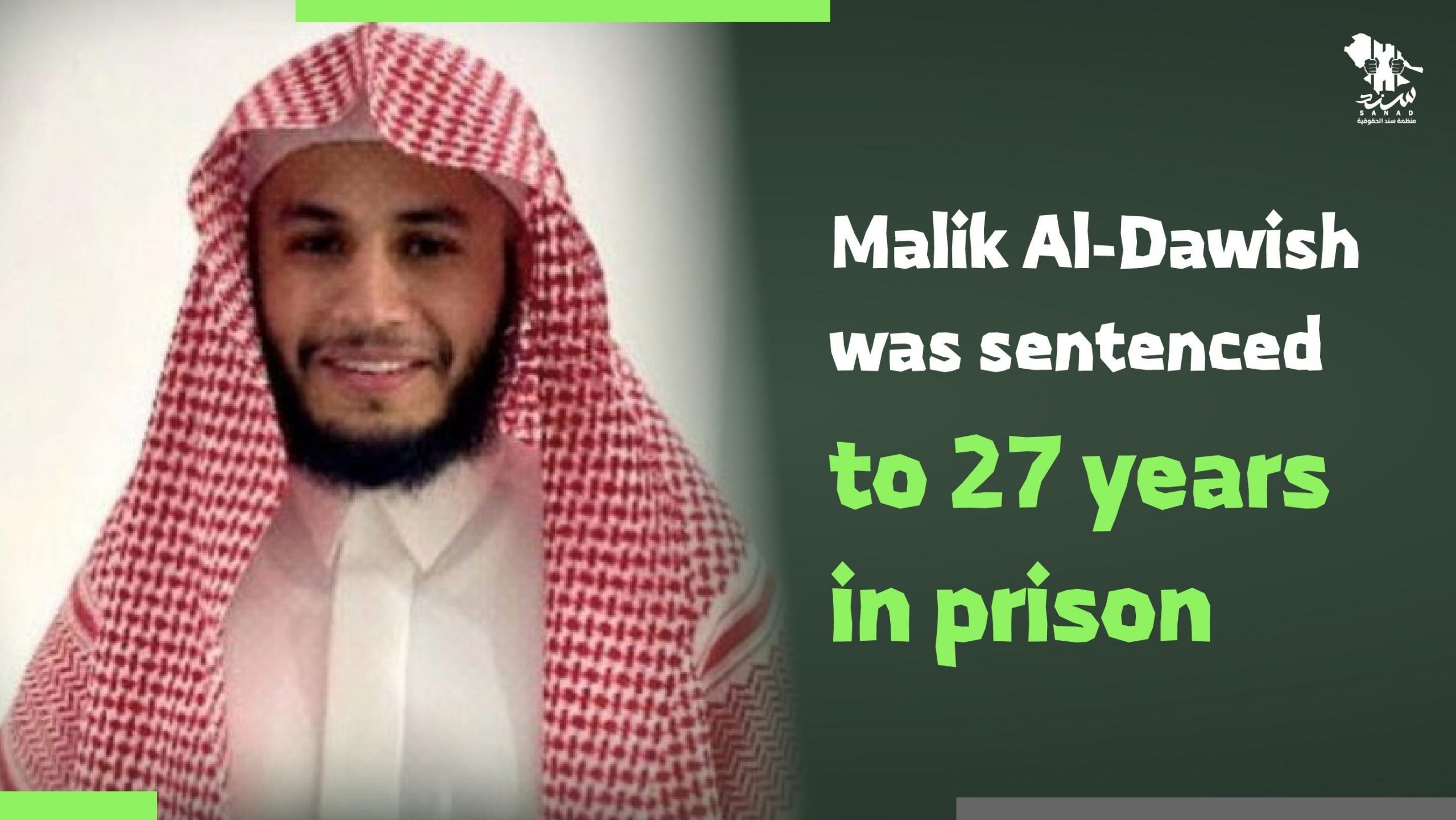 Malik Al-Dawish was sentenced to 27 years in prison
Malik Al-Dawish was sentenced to 27 years in prison
The Saudi judiciary has sentenced Malik Al-Dawish for 27 years, for his inquiry about his father's condition, Sheikh Suleiman Al-Dawish. His father has been forcibly disappeared since April 2016.
It is noteworthy that Malik was arrested in July 2022 and released in August of the same year. His freedom lasted only one month until he was rearrested again. He was arrested because of a clip of him spread as he inquired why his father had disappeared more than 6 years ago and the authorities prevented them from communicating with him. His father also has not been prosecuted so far.
Malik explained in the video that the reason for his father's arrest was a tweet criticising spoiling children and not holding them accountable, what the authorities considered a reference to Prince Muhammad bin Salman.
Sanad human rights organization revealed earlier that Malik Al-Dawish was subjected to brutal torture to forcibly extract details of his clip that he recorded to an American channel. Sanad also revealed that investigators used an immoral and illegal method with him, which is to give him some medicines which make victims say many events unconsciously. Al-Dawish reportedly acknowledged all the details about the video and his communication with activists abroad to help publish it to help his father's case. Saudi authorities then forced him to record these confessions from the same place where the first clip was recorded. and to say falsely that his father called them from Syria and told them that he was fine and they then lost contact with him. The investigators promised Malik that if he did that, they would release him.
Sanad strongly condemns this ruling issued against Malik Al-Dawish to 27, and calls for immediate and unconditional release for him and the rest of his detained family members. We also call on the international community to intervene immediately to defend human rights in Saudi Arabia and to combat injustice and continuous violations.