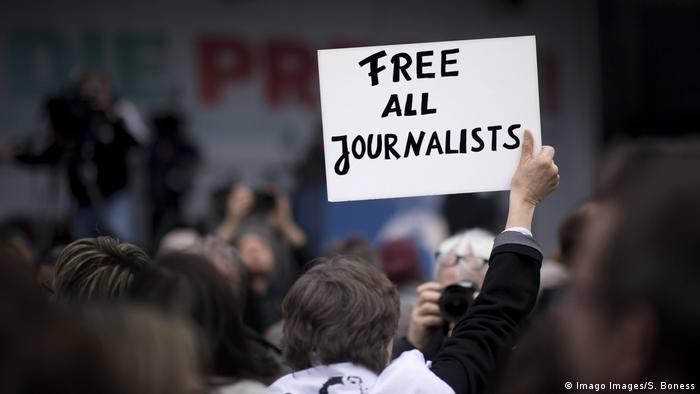 On World Press Freedom Day: Saudi Arabia tops the list of countries that repress journalists
No improvement on the horizon under the current repressive regime
Today, while the world celebrates World Press Freedom Day, Saudi Arabia seems to be unperturbed by remaining in the top of the list of countries that suppress freedoms, especially the freedom of the press. The Saudi authorities continue to practice various repressive methods against the press and journalists, by restraining freedom of expression and arresting journalists, reporters, writers and bloggers.
In their Freedom of The World 2022 report, The Freedom House stated that "the Saudi government controls domestic media content and heavily influences regional print and satellite-television coverage. Journalists can be imprisoned for a variety of vaguely defined crimes."
"The government maintains an extensive system of social media surveillance and regulation and invests considerable resources in automated "bot" and other accounts that influence and distort the social media environment and target prominent users," the report adds.
According to Reporters Without Borders (RSF), independent media are non-existent in Saudi Arabia, and Saudi journalists live under heavy surveillance, even when abroad. The number of imprisoned journalists and bloggers has tripled since 2017.
The Committee to Protect Journalists (CPJ) reported that 14 journalists were imprisoned in Saudi Arabia in 2021, raising the total number of attacked (imprisoned or killed) journalists to 37, making the Kingdom among the worse five countries on the number of detained journalists.
Saudi Arabia is currently in the top five countries with the highest number of journalists in prison over their professional work. The long list of detainees in Saudi prisons includes a number of journalists such as Zuhair Kutbi, Zana Al-Shehri and Khaled Al-Alkami. Turki Al-Jasser also was forcibly disappeared for several years after being accused of using a fake Twitter ID to criticise the policies of the Saudi Crown Prince.
The violations of the Saudi Regime did not stop at the arrest of journalists, but extended to killing them. One of the world's most heinous crimes against journalists was the brutal assasination of the Saudi prominent journalist and Washington Post columnist, Jamal Khashoggi inside the Saudi consulate in Istanbul, Turkey in October 2, 2018, by a Saudi official hit-squad directly supervised by the Saudi Crown Prince Mohammed bin Salman.
Another example of killing journalists is the writer Saleh Al-Shehi, who was release a few days before his death, after his health deteriorated inside the prison. Al-Shehi was arrested for criticising corruptions within the Royal Court during the era of Mohammed bin Salman.
The Saudi authorities are directly and fully responsible for the heinous violations against journalists, freedoms, and press, amidst an urgent need to end these violations and abuses practiced by the regime.