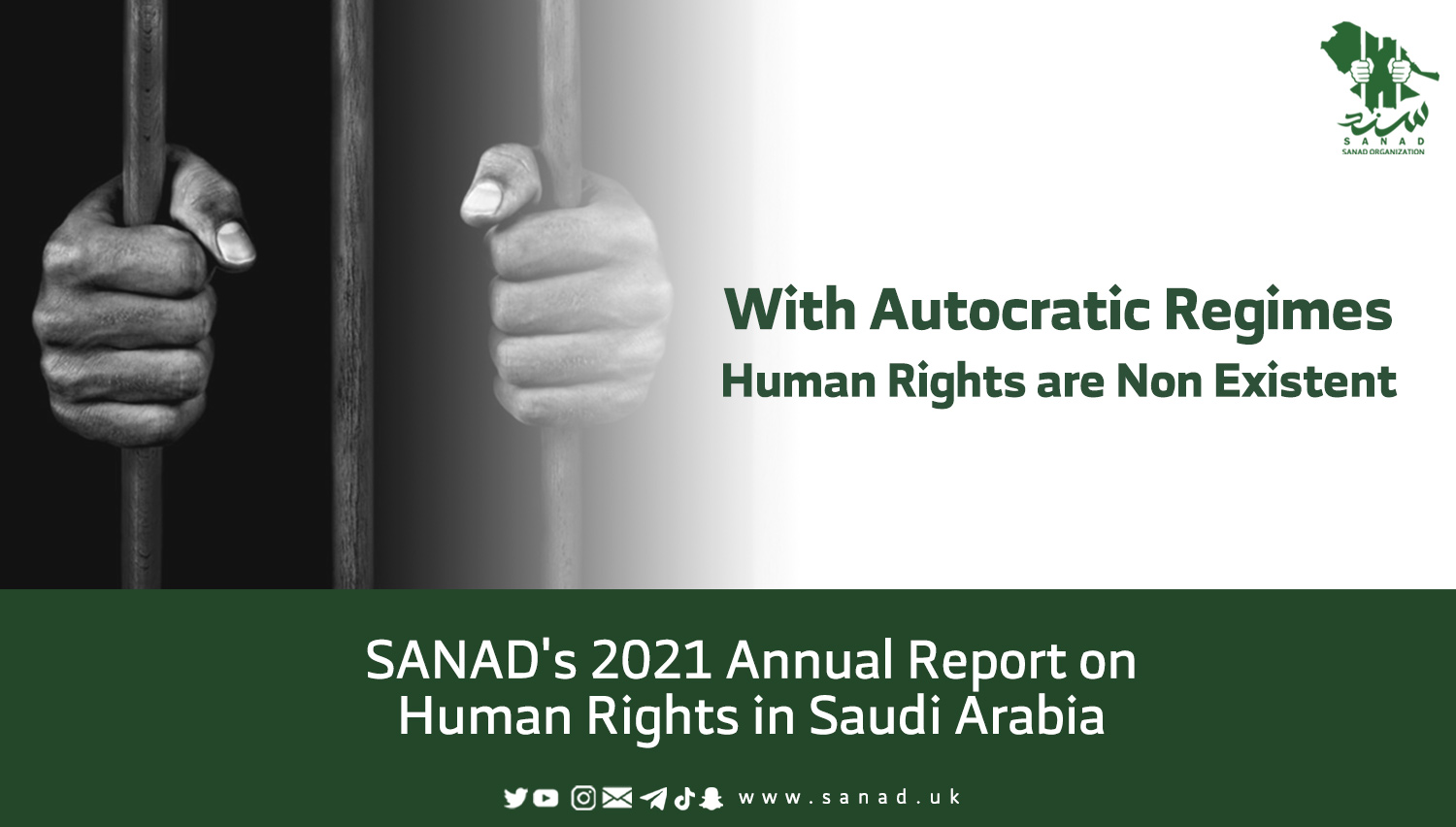 SANAD's 2021 Annual Report on Human Rights in Saudi Arabia
With Autocratic Regimes, Human Rights are Non Existent
SANAD's 2021 Annual Report on Human Rights in Saudi Arabia
SUMMARY
Despite numerous international reports of brutality and repression of the Saudi regime, as well as international human rights organisations calling for Saudi Arabia to improve its human rights record and move towards real reform; and despite the attempts of the Saudi regime to improve its image in front of the West with claims of reform and media propaganda giving the delusion of rights being preserved; the daily practices and repeated violations being committed confirm that the human rights record of the Saudi regime in 2021 is very much behind, and its violations and transgressions are on the rise.
It seems that the Saudi authorities have not yet realised the dangers of continuing its brutal policies of repression against academics, intellectuals, activists, jurists and journalists, despite warnings issued by human rights organisations amid fears of an increase in the severity of brutal repression and a deterioration of the human rights file in the country.
The incessant heinous practices of human rights violations and the continued policy of arbitrary detention, enforced disappearance and brutal torture inside prisons confirms that the Saudi regime is adamant to continue to pursue these policies in managing the country. This is in addition to depriving detainees of their basic rights, as well as the deliberate medical negligence they are subjected to inside detention centres. Moreover, the clear legal imbalance in dealing with detainees' cases, including their arbitrary arrest without a warrant or judicial order; the conditions of their detention and enforced disappearance; and the sham trials that lack the most basic standards of justice, in addition to the unfair and lengthy sentences issued against some, or the prosecution threatening the public by imposing the above on those who merely exercised their natural right to express an opinion.
The Saudi judiciary lacks the basic legal and criminal standards in dealing with prisoners of conscience in the Kingdom, and despite claims made by the Saudi Crown Prince in early February 2021 of developing the legislative system and improving the penal system, these claims did not see the light of day.
Indeed, transgressions of the Saudi judiciary affect prisoners of conscience, between unfair rulings, delaying court hearings, many without a valid reason, in addition to the sham trials lacking the most basic standards of justice.
Saudi authorities have delayed the trial of a large number of prisoners of conscience, postponing some without giving any valid reason or justification. An example of this is the trial of Dr Salman al-Ouda, which has been stalled and postponed for nearly three years. The same is true with detainees Dr Hassan Farhan al-Maliki and the journalist Zuhair Qutbi.
The Public Prosecution has demanded the death penalty for a number of scholars and thinkers, such as Dr Salman al-Ouda, Dr Awad al-Qarni, Dr Ali al-Omari and Dr Hassan Farhan al-Maliki. The court issued harsh sentences spanning decades against others such as AbdulRahman al-Sadhan who was sentenced by the Specialised Criminal Court to twenty years in prison on charges related to expressing his opinion. The same happened with human rights defender Khalid al-Omair, who was imprisoned for nine years, and journalist Khalid al-Mahawesh for 10 years, as well as many others.
Cases of arbitrary arrests and enforced disappearances have continued throughout 2021. Sanad has monitored more than 30 cases of arbitrary arrests in Saudi Arabia during 2021, where more than 80% were subjected to enforced disappearance for periods ranging between two weeks and five months. It appears that the Saudi regime continues to silence all voices demanding rights and freedoms through raids, arrests, kidnappings and enforced disappearance.
In 2021, prison conditions in Saudi Arabia were still tragic, brimming with cases of torture and neglect against prisoners of conscience. There are those who have been neglected medically, left to suffer until they die, or those tortured physically until they meet their demise. It seems that the Saudi government, together with its security and justice institutions, is adopting a policy of systematic restrictions against detainees to increase their suffering inside prisons. This includes deliberate medical neglect, where authorities don't provide detainees with the necessary medical care, thus exposing them to the risk of slow death. The regime believes this is less costly to the international community.
The executions' file remains a thorny issue in Saudi Arabia, as the regime exploits it politically to exterminate its opponents and uses it as a method to deter violators. In 2021, even children who were accused of participating in demonstrations to defend rights, such as Mustafa Al-Darwish, faced this penalty, despite their age.
In 2021, the brutality of the regime continued to haunt detainees, even after their release. Indeed, their freedom is withheld and their voices suppressed. They cannot speak nor express their opinions, and their freedom of movement is restricted by preventing them from traveling. They are spied on and their movements are tracked.
The files of forced disappearance and demolition of property are still ongoing. After confiscating the lands of Al-Huwaitat's sons in 2020, 2021 witnessed several displacement operations in various regions in the Kingdom, mainly in Riyadh and Asir, as well as the heinous demolitions that are currently underway in Jeddah. What the regime is doing against its citizens is a blatant violation of the most important of human rights, namely housing. Instead of providing housing for its citizens, the government has demolished homes and displaced its residents under false pretexts.
In 2021, the Bidoon (stateless citizens) issue did not see an improvement despite demands of human rights organisations for Saudi Arabia to reform and close this file and stop the 'snowball' from expanding. Despite a number of personalities being granted Saudi citizenship, the Bidoon file is still open with no immediate solution on the horizon. On the contrary, there is an escalation in the number of violations against these citizens, with a lack of access to basic individual rights, such as education and health.
Sanad presents its annual report on the human rights situation in Saudi Arabia and what it monitored in 2021 of rights, violations and infringements on freedoms.
Click here to access the full SANAD's 2021 Annual Report on Human Rights in Saudi Arabia.